Tusky Valley Local Schools Construction Tours
August 16, 2022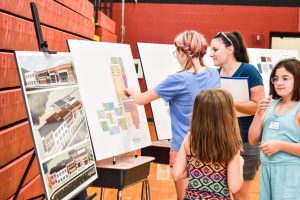 After a two-year hiatus, the Back to School blast finally returned to Tusky Valley Local Schools. The district hosted this community-based event just prior to the first day of school. Food, games, music, and information about local organizations, giveaways, school activities.
A 40-foot beam from the new middle/high school student dining area was also placed at the event. All attendees could sign the beam and put their permanent mark on the school facility. The signature beam will be put in place for a "Topping Off" ceremony in late October.
A special addition to the event was an opportunity to take a construction tour of the new 7-12 middle school/high school building. Hundreds of students, staff, and community members showed up for a guided tour conducted by district leadership, architects, and construction professionals. The excitement of the new school and new amenities available to the students could be seen on the many faces that walked through the building. The 114,565-square-foot building will be complete for the 2023-2024 school year.