Skilled Trade vs. College
April 4, 2023
Choosing a skilled trade vs. a college education is not about deciding if one is better than the other; it is about choosing a career that fits your goals and personal strengths. Statistics show that 70% of jobs require a college degree or post-secondary training. Both a college education and the skilled trades can provide a long-term, successful career for graduates. Critical factors to consider in comparing the two options is the time commitment required and the financial obligation needed to accomplish each goal. These young adults, for the first time, are navigating their options, establishing independence, and exploring the balance of life's challenges.
70% of jobs require college education or post-secondary training, so either one will set you up for success as you embark on your chosen path.
Time and Cost Comparison of a Skilled Trade vs. College
One of the most notable differences between the skilled trades and a college education is the financial commitment. The average cost of college tuition in Ohio is about $15-30k  per year, depending on whether it is a 4-year or 2-year college. Beyond tuition, there are additional costs to consider including meal plans, books, and housing expenses. Costs for a trade apprenticeship range from $5,000 to $15,000 in total, and the time commitment generally lasts 1-4 years. Learning a skilled trade does have ancillary expenses including books, construction gear, and tools needed for the job (*pro tip at the end). Carpentry apprenticeships allow you to work in the field while earning a competitive wage, and your education is 100% paid for by the union – meaning at no cost to the individual.  This is in stark contrast to a college education where students are juggling a job and classwork, while also paying expensive tuition fees each semester. The skilled trades provide valuable employee benefits including healthcare, vision, dental, pension, retirement, 401(k), annuity, vacation, and holiday pay. Additionally, some classes provided during the apprenticeship count as college credits. If a tradesman chooses to go to college, those credits can go towards achieving an associate or bachelor's degree.
Work full time, earn money, with benefits, all while learning your trade.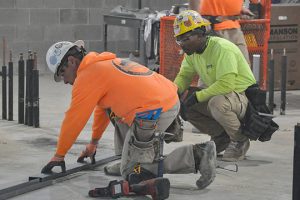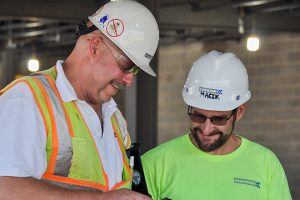 Long term benefits of learning a skilled trade
As a skilled tradesman, you become an instant commodity in a strained labor market. Skilled trades workers are in high demand right now, with a dwindling workforce of construction personnel across the nation. The knowledge gained from a trade can lead to a variety of career options including a full-time job, a side job for additional income, or you can start a small business providing home improvement services, building maintenance, or other specialty jobs. No matter the degree or certification you earn, you have set yourself apart in the workforce by proving you are a goal-oriented candidate. Consider it an investment in yourself.
Become an instant commodity in a strained labor market.
Resources for local skilled trade options
A career in the skilled trades isn't discussed as often as pursuing a college degree for young adults preparing to take the next steps in their career. Below you can find helpful resources for students and others in making a decision about training opportunities.
Provided below is information on different trade options if the skilled trade path interests you.
Richfield Training Center | Carpentry Apprenticeship
https://www.ohcap.org/ApprenticeCarpentryCom.xml
Electrical Training ALLIANCE 
https://www.electricaltrainingalliance.org/training/apprenticeshiptraining
Skilled trades that are lacking the most entry level people: 
Drywall Finishing
Bricklaying
Iron Worker
(The above trades are also the most physically demanding) *Pro Tip: Buy 1 tool per paycheck.